Cleanroom Aluminum Panels
with a Honeycomb Core
Webb Core Cleanroom Wall and Ceiling Panels are designed, manufactured and intended to provide high structural strength with minimal weight. Our cleanroom aluminum panels have an aluminum honeycomb core expanded into a hexagonal structure sandwiched by aluminum skins and bonded with our custom adhesive.
Cleanroom Panels are specifically designed for wall and ceiling cleanfab application, but are used for solutions in other industries. The standard aluminum skin is typically constructed from a 0.032 (0.025, 0.040, 0.063 available) aluminum sheet with an acrylic or epoxy paint finish.
We also offer custom cleanroom panels upon request.
Cleanroom Honeycomb Panel Applications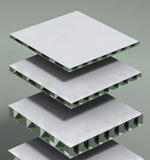 Cleanroom Wall Panel Systems & Ceiling Panels
Structural Applications
Modular Cleanroom Wall Panel Systems
Display Systems
Exhibit Panels
Veneers and Metal Finishes
Decorative Partitions
Fine Art Conservation
Signage
Cleanroom Panel Finishes
Designer White

Conductive White
Duracoat Polar White Epoxy
Polar White Acrylic
Shell White
Conductive Dissipative
Static Dissipative
Custom
Thermostatic Acrylic Enamel
Dry film thickness: One coat 0.75 -0.85 mil pretreated aluminum
Hi Gloss: 60 degree 80% minimum
Pencil Hardness: Eagle Turquoise F-H
T-Bend: 2T = No Pinch Off .060" - 0.080" heavier gage/harder may go to 4T-NPO
Adhesion: 1/16" Dry Crosshatch = No Tape Off
Rev Impact: 1-1/2" times metal thickness = No pinch off
Acid Resistance: AST5M D968, 30 liters falling sand
Taber Abrasion: Model 503, Teledyne Taber, SS-10 wheels 450 Cycles to substrate, 54 mg loss @ 450 cycles or .12 mg per cycle.
Detergent Resistance: 3%, 100 hours @ 100 degrees F - Pass
Webb Core Cleanroom Panels Feature
Up to a Sub-Class 1 Environment
Variety of Wall Panel Systems
Designed to meet all requirements for new and existing facilities
Ability to integrate with existing modular cleanroom wall panel systems
Chemical Resistance
Anti-static Conductivity
Lightweight Aluminum
High Strength
Non-Outgassing
Panel Dimensions and Weight
Weight: 1.1 lbs./sq. ft.
Length: up to 174 inches
Width: up to 48 inches
Thickness: 0.25 inches - 3 inches Sheet Aluminum
Chemical Resistance
Performance Tests
Climbing Drum Peel: 12 in. lb/3 in. Mil-STD-401
Surface Resisability: 107-9 ohms/sq. ASTM D257
Climbing Drum Peel: 12 in. lb/3 in. Mil-STD-401
Flatwise Tensile: 300 PSI Mil-STD-401
Outgassing:< 0.15 ppm/mg
Epoxy Coating Specifications
Surface Resistivity: 10 to power of 7 - 10 to power 9 ohms/sq.
Adhesion (ASTM D3359): 5B
Film Hardness (ASTM D3363): 2-3H
Tabor Abrasion: 6.0 mg maximum (ASTM D4060 CS10, 100 Cycles)
Impact: 12 in-lbs. minimum (ASTM D2794 2 lb., ½" Ball)
Flexibility: >3T
Outgassing: .06 ppm/mg maximum
Panel Specs.
Coatings Specs.